Features
AgiNotes is for those who love their dog and dog agility, and want good results from their training. AgiNotes is designed to make training more successful by helping users focus on the right things and plan their training better. This is done by offering
data about the user's results and activities

tools that help in planning training entities and keep motivation up by showing progress.
You can easily use it on your mobile phone (it doesn't take any space from your phone's memory), or any device and in several languages (in English, German, French, Spanish, Finnish, Swedish, Norwegian, Danish Italian, Portuguese and Dutch!).
Plan your training easily
AgiNotes' training list is a powerful tool for anyone who wants to be a fair teammate to his or her dog. It is easy to lose focus and train just something, anything, or whatever others are training. This, however, is not the best way to approach the individual needs of your dog. With the training list, you can
✓ Add training topics and break them into smaller subtopics
✓ Prioritise training topics and subtopics
✓ Add exercises under topics and subtopics (course maps, videos, notes)
✓ Copy training topics to your other dogs' profiles
✓ Move exercises to your training diary
✓ Follow the progress of each training topic that includes subtopics or exercises
✓ See what you have already done and what you can or cannot expect from your furry teammate
Keep a training diary to see what you have really trained
By adding your training sessions to the training diary you
✓ Keep your course maps, videos and notes in good order
✓ Get statistics of what you have actually trained.
✓ Compare the data to what you have prioritised in your training list and see if you've focused on the right things!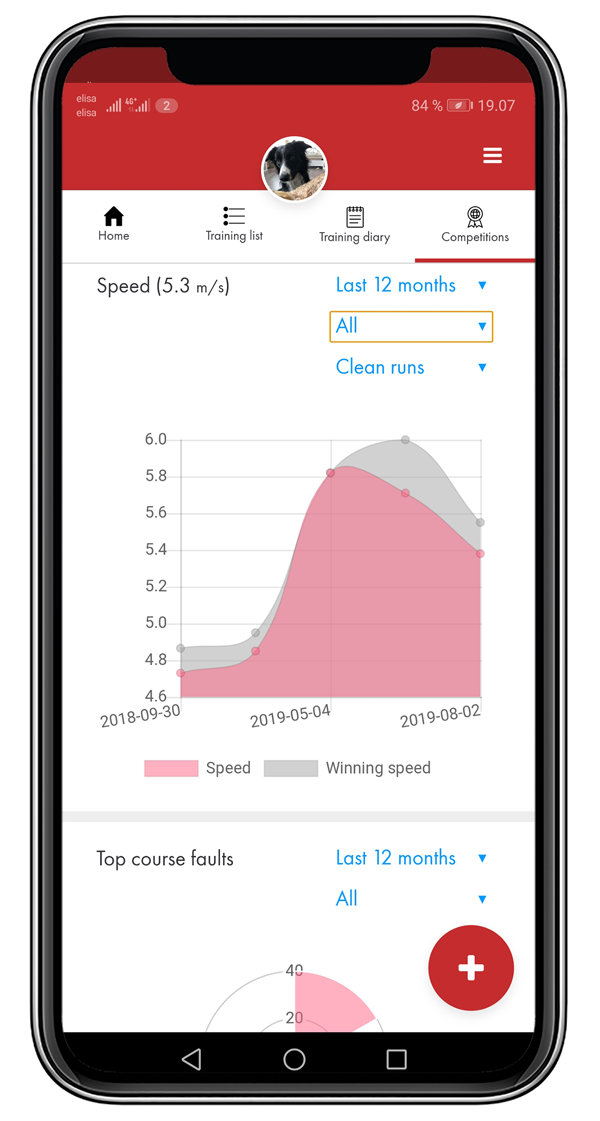 See statistics of your competitions
Add your competition data to AgiNotes and get interesting statistics about your
✓ clean run rate
✓ speed development
✓ placements
✓ most common faults
✓ reasons for the most common faults
Based on this data, you can make a list of the things that need more training and add them to your training list. There you can create a step by step plan for turning the failures into your strengths!
Missing something, ideas for improvement?
We are constantly developing AgiNotes further. If you have any ideas, questions or other feedback, please feel free to contact us!